"We hired Lindsay for our engagement party. When we were looking for a photographer and we landed on Lindsay's page we instantly fell in-love with her style and pretty much knew we would hire her. After receiving our photos in 24 hours (which is incredible). We were in shock how incredible the photos were, you really saw everyone's genuine happiness in the photos along with our happiness and love. In the middle of the party Lindsay pulled us aside to do solo shots and the atmosphere was so much fun. Everyone is obsessed with our solo photos, We can't wait to hang them up."
"Lindsay exceeded all our expectations from day one. From the moment we booked a phone call to discuss possibly booking her to our engagement shoot and the wedding day, Lindsay has been not only professional, but incredibly knowledgeable throughout the whole process. The moment that we had the phone call, we decided to book immediately because of how we felt that she was the right fit for us – she was fun and energetic, but also, highly professional and thorough. During our engagement shoot, it was confirmed that we had booked the right person because the photos came out incredible but more than anything we had such a fun time during our shoot. Our pictures look natural and warm because we felt so comfortable with her guiding us. For our wedding day, we chose to have the 8 hour package, but ended up adding additional time at the end and I am so glad we did. Lindsay captured every single moment, even the ones that I didn't even think to tell her that I wanted captured like for example pictures with our family dogs or detail shots of our decorations. Lindsay captured the most important day of our lives in such an intimate and warm, but also energetic way that is so unique to her, and it makes all the pictures stand out from the family pictures to the bride and groom photos, and specially the party pictures. We could not be happier with the job that Lindsay did as our wedding photographer and we cannot wait for her to capture all of the important moments in our lives going forward!"
"Lindsay was my wedding photographer. I can not recommend her more! I absolutely loved my photos and she had them to me in less than a WEEK! I had friends that waited months for their photos! Lindsay captured the feeling of the evening perfectly and I can't stop smiling when looking at them! Highly highly recommend!"
"We loved Lindsay's work so much! We were so excited to get out photos back and they blew our expectations out of the water! Highly recommend!!!!​​​​​​​"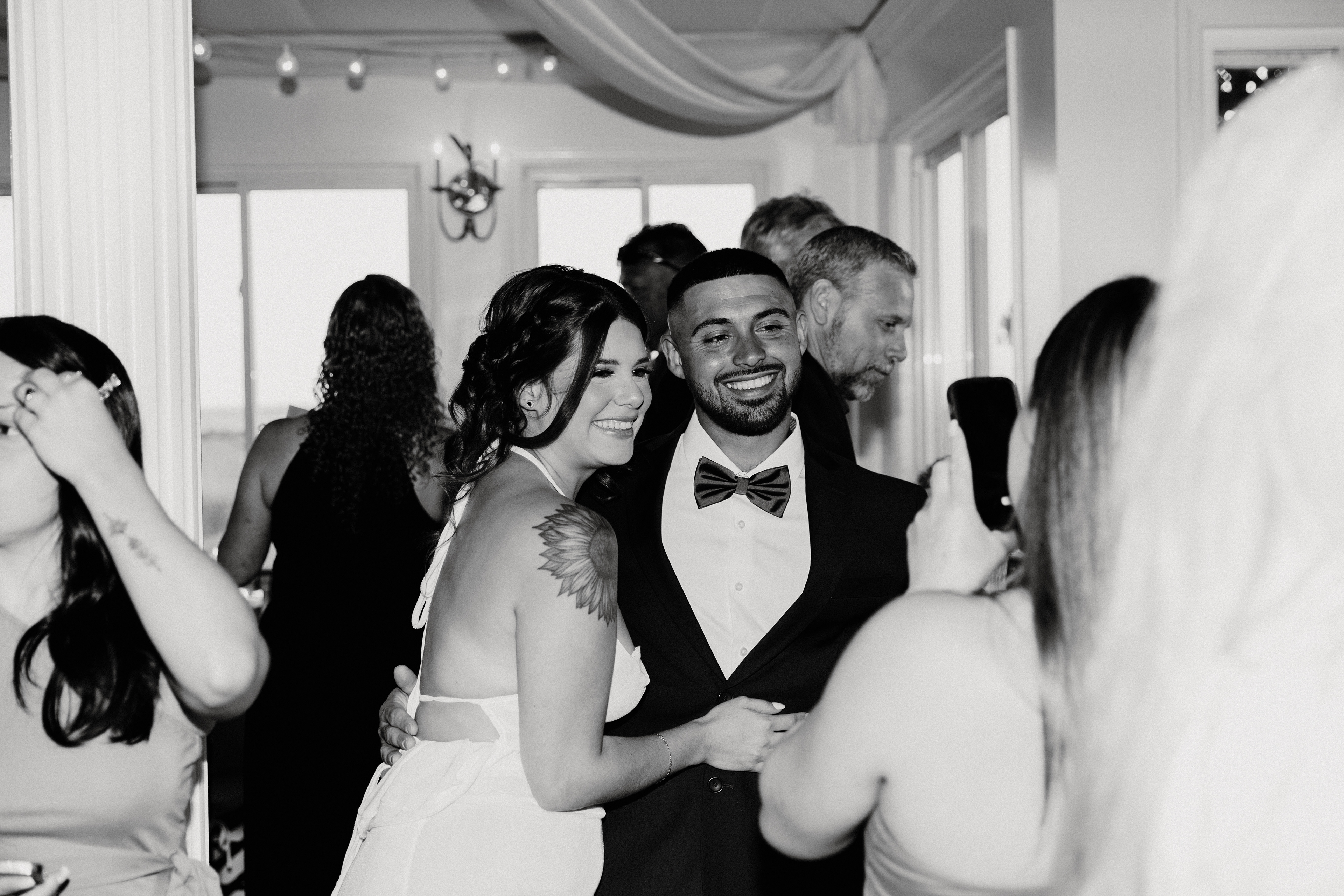 "I LOVED how authentic her photos are really captures the moments. The planning process was seamless & very quick to respond. She also was AMAZING with my 7 month old which is not an easy task by any means. I hope to be able to hire her again we had so much fun!"
"Lindsay was absolutely amazing, a down to earth person, so kind and absolutely delivered the vision I had for my engagement pictures!! We wanted our pictures to be timeless, with a classic car, black and white, with a beautiful view, and that is exactly what we received, I found her one night as I was scrolling through Instagram trying to find inspo pictures for my engagement shoot, I still didn't have a photographer, and she happened to shoot in Long Island, I instantly contacted her not for the reason of it being close to where I live (that was a plus) but bc I instantly fell in love with her page, her style, the scenery of every picture, how comfortable all those couples looked, it was everything we could have asked for!!"
"I hired Lindsay for my bridal shower and it was the best decision!! She was so flexible with us when we changed our plans due to it being windy, and has a very calm and relaxed personality which was super appreciated. Lindsay's style of photography was one of the main reasons that I booked her, and when I saw our gallery less than a week later, I was soo happy that I did. The pictures are so beautiful, candid, and really capture the vibe of the party. Would absolutely recommend her to anyone!"
"Lindsay did a fantastic job capturing my engagement party! She also came a little early for a quick shoot of my fiancé and I in our apartment. She was so creative! She gave us a combination of candid shots, posed shots, cool blurry shots, and decor shots. I gave her a Pinterest board before hand for inspiration, and she executed my vision even better than I imagined. She was also so sweet and made my fiancé and I feel really comfortable behind the camera. We had so much fun with Lindsay and we would definitely recommend her!"
"You did a fantastic job and really captured the day. You were discreet and didn't make us feel awkward or too posed. Also love the detail pics you took!!"
"We booked Lindsay for our engagement party. She was absolutely amazing to work with and we love all the moments she captured!"
"Lindsay's absolutely amazing! She had taken our Rokha (engagement photos) & did more than what I even expected. The fact that it was her first time doing an Indian event was hard to believe because the photos came out PERFECT. My entire family & in-laws absolutely adored the photos and Lindsay as well. Personally, I did not want an Indian photographer since I hate the way the photos are taken so I found Lindsay via Instagram. I have no regrets! I'm incredibly happy with everything! We'll be using Lindsay for our proposal as well :) & future events!"
"I had such a wonderful experience with Lindsay. She is so sweet and captured everything. The candids and the style of photography is amazing. I will definitely be using her for any future events. I am still in shock and in love with the photos. Thank you so much."
"I booked Lindsay for our church wedding ceremony. Our pictures were unreal and I typically despise any photo of myself. We fell in love with Lindsay and her work so we booked her again for our rehearsal dinner. She is so easy to work with and super creative! Lindsay is not only an amazing photographer but an amazing human. We feel as if she is family now and will not look to anyone else to capture our most important memories and milestones!"
We booked our engagement/maternity shoot with Lindsay and she was just a doll. She is SO welcoming, professional and extremely encouraging. We told her an idea of what we had in mind and she made it come to life. We loved her so much that we booked her months later for our elopement/ micro-wedding. The pictures from both shoots were just amazing and her turn around time is super fast. 
Lindsay, you are so kind and talented. Thank you for all of your hard work on bringing our dreams to reality. We appreciate you! ❤️
I met Lindsay at my best friends wedding in the summer and was impressed with her work and style of photos. We decided to use her for family photos in the fall. She had great suggestions for locations that would work best. During the photoshoot she did a wonderful job interacting with my 10 month old getting her to smile in most of the pictures! We got all our pictures back the next day (how?!) and loved them all! Her style is different than any professional photographer we had used in the past and will truly cherish these photos with our baby forever! They made great Christmas cards and we already got so many compliments! We will definitely be using Lindsay in the future :-)
"Lindsay took my wedding photos in May and it was more than I could have ever hoped for. She was sweet and amazing to work with. She made everyone feel comfortable and executed my vision perfectly. Her turn around time was so fast and I was completely blown away by how the photos turned out. Her editing truly brought our photos to life. 100% recommend!"
"Lindsay shot my wedding this summer and was able to capture every detail of this special day. Her style and creativity really allowed my husband and I to feel at ease knowing she would bring our vision to life. Lindsay's ability to see a perfect shot in the ordinary proved to be a game changer when we shot throughout our hometown after the wedding. I am so thrilled with the moments she captured. I can't wait to use her again for my families next big event or even just a family shoot."
"My fiancé and I booked Lindsay for our engagement pictures this past October. She was so wonderful to work with! Great communication prior to the shoot and very accommodating! During the shoot she was so easy to work with and gave great directions on how to pose, making our photos look so natural. She has wonderful energy, it honestly felt like we knew her forever! Nothing about the shoot felt rushed or forced! We didn't know we could have so much fun taking engagement pictures, not to mention our pictures came out amazing!! Cannot wait to use her in the future!"
"Lindsay was recommended to me through my wedding planners and my experience was absolutely amazing! She was the absolute sweetest and extremely easy to work with, not to mention I've been getting non stop compliments on my wedding photos! I look forward to working with her in the future through all of our family milestones 🤍"
"I met up with Lindsay at the beach for a couples shoot! I was nervous at first, I had never done a professional shoot before, but Lindsay was very welcoming and made us feel at ease. She gave us direction when needed, but Lindsay also allows you to have fun with it. Her approach to photography beautifully captures real, timeless, unposed moments between you and your person. I loved her perspectives/angles. Another plus is that we got our photos back so quickly. I'd recommend Lindsay to anyone!"
"We booked an outdoor family photo session at the end of October. We have a 2 year old and 1 month old and Lindsay did an amazing job capturing some beautiful shots among the chaos of the session, I truly don't know how she was able to get the pictures she did! She was so sweet with our kids and our two year old absolutely loved her! She was quick to get the pictures back to us and was communicative through the entire booking process. We have received so many compliments on our photos! We will definitely be booking future family photos with Lindsay and have recommended her to local friends and family!"
"Did a portrait beach session and oh my goodness was Lindsay just the sweetest. 1. She is gorgeous both inside and out. Like obviously she is beautiful but her inner beauty just SHINED. Such a supportive, wonderful person. 2. She was such an incredible cheerleader. My boyfriend and Lindsay were just hyping me UP which made the experience so calming and so natural. 3. She was so understanding about payment. I was a bit late with payment due to the holiday week and she was SO understanding. 4. She was SO quick with editing. Literally took 2 days and the pictures were unreal! 5. We bonded over Stranger Things and emo life, need I say more? Overall, PLEASE book her!​​​​​​​"
"I booked a family photo session with Lindsay and she was amazing throughout the entire experience. We originally booked for September, but when we had to move the date to October she was accommodating and understanding. We had to postpone again due to weather and again Lindsay was very accommodating and was communicating with me every step of the way. I have two young children and she was very sweet with them, kept them engaged and it led to the best pictures. I would absolutely recommend Lindsay. She is a true professional at her craft and it was a pleasure to work with her. I will be using her again in the future for sure!"
"Booked a mommy and me session that took place just before Mother's Day 2022. Lindsay was so incredibly sweet and so great to work with! She was responsive in her communication leading up to the shoot and truly made my baby daughter and I feel at ease during the shoot! She captured so many beautiful shots and returned them so quickly! I can't say enough great things about her and her work! Looking forward to booking another session soon!"
"We booked an engagement shoot at Robert Moses in March 2022. It was very windy that day but Lindsay made it work for us and the pictures came out fantastic would definitely consider booking her for any future events!! She is sweet, kind and patient and really is amazing with her camera work!"
"Lindsay took pics for our elopement on Long Beach and was SO great to work with. We booked kind of last minute and she was super accommodating and we had such a great time taking the pics. She was super professional and took amazing pictures. Highly recommend!"
"We booked engagement photos that were taken at Robert Moses beach in May. We are thrilled with the results of the photos, they were exactly what we were hoping for. The styles and poses included some that I had sent as inspiration as well as unique and romantic shots that I absolutely love. I really cannot say anything negative about our experience whatsoever, everything was perfect."
"Lindsay took my wedding pics and let me tell you she's amazing and her vibe is everything !! Absolutely pleased with how the pics came out ! Came wait for next photoshoot💛"
"As a fellow photographer myself, booking a photographer for my own event felt even more important! As soon as I saw Lindsay's work, I just knew she would document my day in a way that captures everyone as they are. Her presence is sweet and relaxing (a bonus!) and I just felt like she knew how to nail it! And she did! I will forever cherish my gorgeous images and memories. Lindsay is amazing and her work made me emotional. <3"